Advanced Dental Services & Technology – Worcester, MA
The Key to Excellent Care is Precision
We believe that in order to provide the best dental care, it's important to use the latest, most advanced and accurate technology. That's why our dental office is equipped with digital X-ray imaging systems, intraoral cameras, and digital impression systems. These devices allow us to make each of your visits more comfortable and streamlined and provide optimal outcomes for treatments.
Digital X-Rays
In the past, dentists would use film to develop X-ray images. Not only was this method not efficient because it took longer to view the X-rays, but it also involved using chemicals that were harmful for the environment. With our digital X-ray imaging system, we're able to snap a photo to view the area of your mouth that lies below the gumline within seconds, and it's immediately viewable to our team. This helps cut down how long your checkups and cleanings last as well as provides us with better image-quality to ensure accurate diagnoses and precise treatment planning.
Intraoral Camera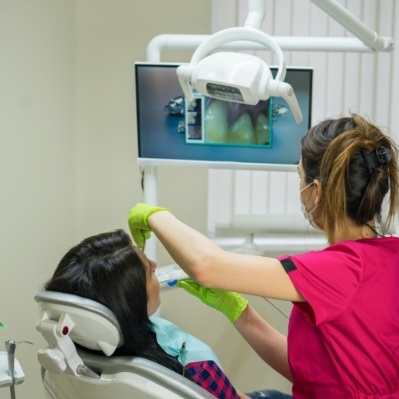 Our intraoral camera is a small, handheld device that we can maneuver around your mouth to view nooks and crannies up-close and in significant detail. The camera footage is displayed on a large, chairside monitor, so we can show you what exactly we're looking at and use still-images to help explain how our recommended treatment plan can help address the issue.
Digital Impression System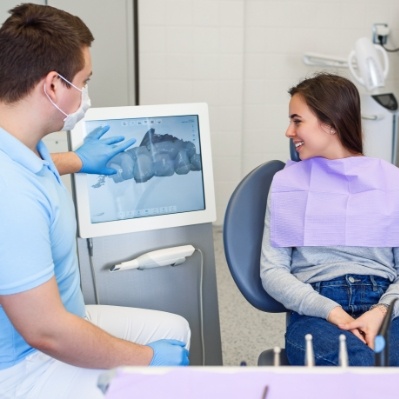 Gone are the days of receiving cumbersome dental putty impressions. Instead, we utilize digital impression systems that create detailed blueprints of your teeth and gumline that we can send off to our dental laboratory. The result of these accurate impressions is perfectly fitted nightguards, prosthetics, and restorations that are built to stand the test of time. Best of all, capturing an impression using this technology only takes a few minutes.