Dental Bridge – Worcester, MA
Rebuild Your Smile
With roughly 178 million people in the U.S. struggling with tooth loss, it's safe to say that it's a prevalent oral health concern. While the effects have obvious cosmetic downsides, the gaps in your smile can also make chewing properly and enunciating clearly quite difficult. Fortunately, they don't have to be permanent! With dental bridges in Worcester, our talented team can rebuild your smile, improving your confidence, bite, and speech in the process. To learn more about this popular tooth-replacement solution, get in touch with our team or keep reading!
Why Choose Winthrop Street Dentistry For Dental Bridges?
Compassionate, Skilled Dentists & Team
In-House Oral Surgeon Places Dental Implants
Dental Insurance Welcome
What Is a Dental Bridge?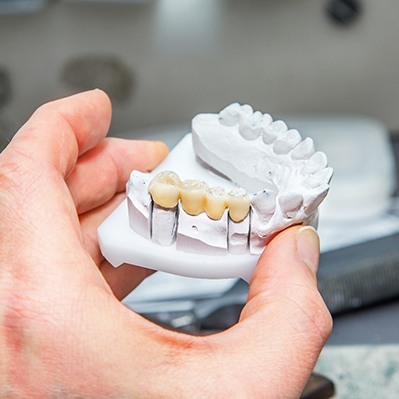 As you might have guessed from the name, a dental bridge is designed to literally "bridge" the gap in your smile. To accomplish this, dental crowns or dental implants are placed on either side of the opening and pontics (the replacement teeth) fill the open space. Most often, our Worcester dentist uses this tooth-replacement solution to replace between one and four teeth.
Types of Dental Bridges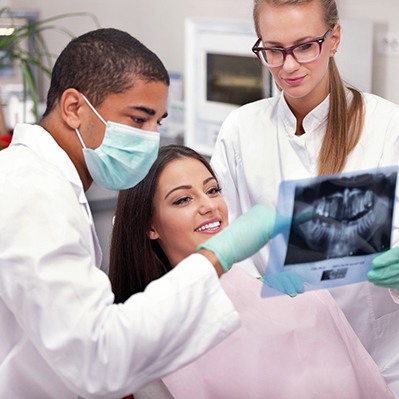 Our team at Winthrop Street Dentistry is proud to offer two types of dental bridges. Of course, we will review each of them in-depth during your consultation to ensure you can make an informed decision about which one is best for you. In the meantime, you can learn more about each below:
Traditional Dental Bridge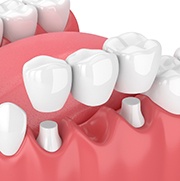 A traditional dental bridge secures the replacement teeth between two dental crowns. While this may require some of your natural tooth structure to be altered, this solution is incredibly durable and lifelike. Plus, it can last for over a decade with proper care!
Implant Bridge
Implant bridges, on the other hand, secure the pontics between dental implants. Although this option often requires a higher upfront investment, the numerous benefits make it well worth it. Not only do the dental implants stimulate your jawbone, but they can last for 30 years!
The Benefits of Getting a Dental Bridge
Dental bridges offer numerous benefits, including the fact that they:
Preserve the alignment of your teeth
Improve your bite
Provide you with a full smile again
Can last for 10-30 years (depending on the type you get and how well you care for them)
Are custom-made for each patient
If you think that dental bridges are the smile-rebuilding solution you've been looking for, then don't hesitate to get in touch with our team. That way, we can help you take the next big step toward a full, healthy, and gorgeous smile!