Dental Implants – Worcester, MA
Permanent Tooth Replacement You Can Trust
Replacing missing teeth has been a key component of the field of dentistry since it first began, but dental implants are far and away the closest that dentists have come to recreating your lost teeth. Unlike traditional dental bridges and dentures, dental implants replace the tooth roots that are embedded in the jawbone. As a result, this solution looks, feels, and functions like your original teeth did. Plus, they can last for several decades, maybe even a lifetime! To learn more about how dental implants from our Worcester, MA dentist can complete your smile, contact our team at Winthrop Street Dentistry today!
Why Choose Winthrop Street Dentistry for Dental Implants?
Entire Dental Implant Treatment Completed in One Location
Implants Placed by Our In-House Oral Surgeon
Flexible Dental Financing Options Available
What are Dental Implants?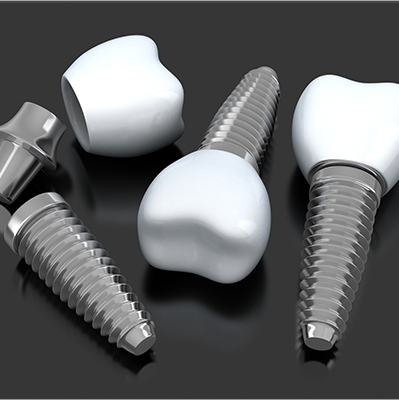 A dental implant is an artificial tooth root that is made from biocompatible materials, usually titanium or zirconia. The post is surgically inserted into your jaw where the root of your lost tooth used to be. Then, it merges with the surrounding bone tissue, forging a direct bond that allows the implant to support a dental crown, bridge, or denture on top of it. Once this process is complete, you can look forward to a replacement tooth that is indistinguishable from your natural pearly whites in almost every way.
The 4-Step Dental Implant Process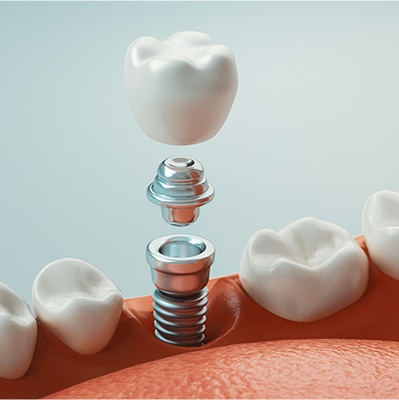 Because dental implants in Worcester require oral surgery, the process for receiving them can span several months and be more complex than traditional tooth replacement options. However, you'll find that this solution is well worth the wait—after all, it can provide you with a healthy and beautiful smile for several decades to come! Our team here at Winthrop Street Dentistry is happy to walk you through every step of the dental implant process in detail so that you can comfortably commit to the treatment. Continue reading below to learn more about these four unique steps.
Initial Dental Implant Consultation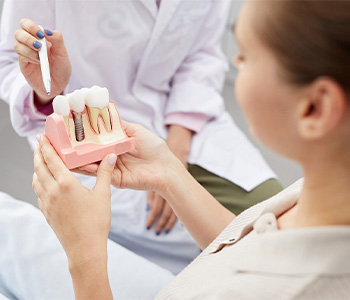 The first step in the dental implant process is attending your consultation with us! Our knowledgeable dental team will be able to determine if dental implants are a viable solution for your situation. During this visit, we'll closely examine your mouth and facial structures, review your medical history and determine if your jaw has a sufficient amount of density to support implants. In some cases, patients might need a dental bone graft to address a lack of jawbone density. Other preparatory procedures include things like periodontal therapy or even possible tooth extractions. In any case, once we've cleared you for implants, we can schedule your surgery and get the ball rolling!
Dental Implant Surgery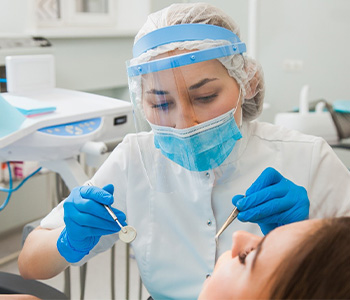 We're fortunate to be able to complete the entire dental implant process in-house thanks to the efforts of our skilled team! This means you won't have to deal with the hassle of coordinating with other offices, which ultimately saves you a great deal of effort. And better yet, the actual surgery itself is a relatively straightforward process. First, your mouth will be thoroughly numbed before small incisions are made in your gum tissue to access the jawbone. Then the implants are precisely placed directly into the jawbone, and the gums are sutured shut. A protective cap is placed over the posts to protect them as they heal and to help your gums maintain the correct shape.
Dental Implant Osseointegration & Abutment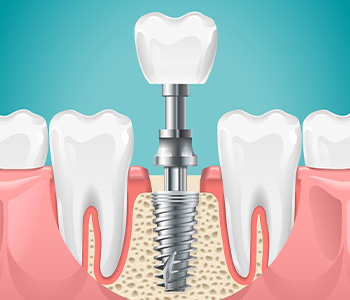 On average, it'll take anywhere from three to six months for the implant posts to naturally fuse with the jawbone; this process is referred to as osseointegration, and it's the single most important factor that contributes to the future success of your dental implants. If your implant posts cannot successfully fuse with your jaw, they will inevitably loosen and fail prematurely. That said, be sure to follow the detailed aftercare instructions provided by your oral surgeon during this step. Once the implant posts have fuses, you'll have to come back for a second (and smaller) surgery to receive your abutments, which go on top of your implant posts. These connector pieces allow your final customized restoration to sit in the correct position.
Delivery of Dental Implant Restoration(s)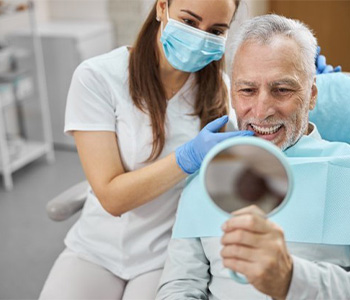 You can rest assured that your restoration(s) will be designed based on exact impressions of your smile, meaning that once your replacement teeth are ready to go, they'll look and feel just like your natural pearly whites! We'll call you back to attach them to the abutments once they're ready, and when we've placed them, we will inspect them to make sure that your bite looks and functions like normal. We'll make any needed adjustments and send you on your way with a newly rebuilt smile!
The Importance of Bone & Bone Grafting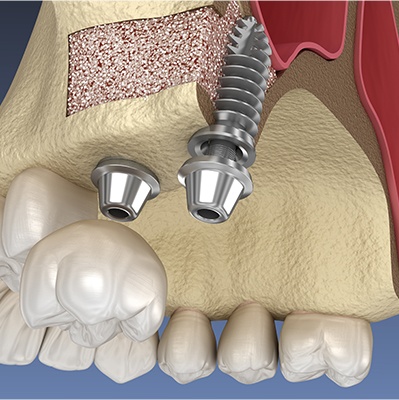 When the roots of your natural teeth are lost, your jawbone loses the stimulation that the roots provided through biting and chewing. The jawbone then begins to weaken. Eventually, you may not have enough bone density to give dental implants the sturdy foundation they need.
That's where bone grafting can help. By transferring bone tissue from a donor onto the deteriorated section of your jaw, the bone will grow stronger. After a few months, you should have enough bone mass to support as many implants as you need.
Benefits of Dental Implants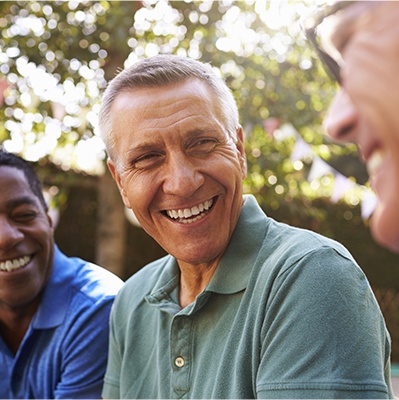 The uniquely comprehensive structure of dental implants gives them multiple advantages over conventional tooth replacements. For example, dental implants:
Stay firmly in place without slippage.
Restore the chewing power you used to have with your natural teeth.
Mimic the appearance of your old smile, boosting your confidence.
Prevent the jawbone loss that ordinarily occurs after teeth are lost.
Don't require any specialized care or maintenance products – just daily brushing and flossing.
Can last for 30+ years if you care for them well.
Who Dental Implants Can Help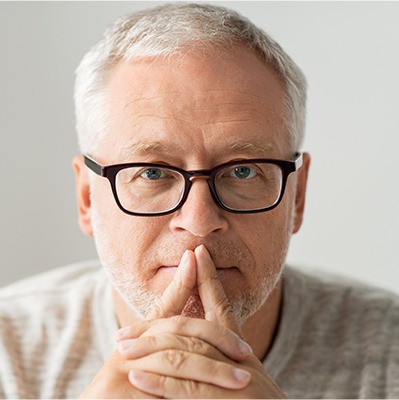 Thanks to remarkable advancements in the field of dentistry, more people are eligible for dental implants than ever before. In fact, if you're an adult who has lost one or more teeth and is in generally good health, chances are you're a good candidate! Depending on your specific circumstances, we can devise a treatment plan designed to give you a full, functional smile again.
Missing One Tooth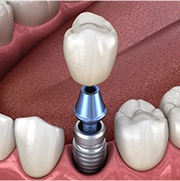 To fill a single gap in your smile, we place one dental implant post vertically into the space where the tooth's roots once were. After the post has integrated with your jawbone, we install a metal abutment connector on top, which is then used to secure a custom dental crown. This solution is much more conservative than a traditional dental bridge, which requires some of your healthy tooth structure to be removed.
Missing Multiple Teeth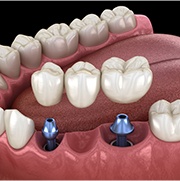 We can bring back several consecutive missing teeth by placing an implant at either end of the gap and anchoring a dental bridge onto them. Implant bridges are self-supporting, so they don't require any of your remaining teeth to be modified. If you're missing multiple teeth at various locations in your mouth, a small number of implants can be placed throughout an arch to secure a partial denture.
Missing All Teeth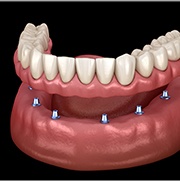 Instead of dealing with an unreliable denture that sits on your gums, you can enjoy a more lifelike solution by having your denture attached to dental implants. In most cases, four to six implant posts are enough to provide support for a full denture. Depending on your needs and preferences, implant dentures can be either fixed or removable. They also won't slip around, so you'll be free to enjoy a varied diet with ease.
Understanding the Cost of Dental Implants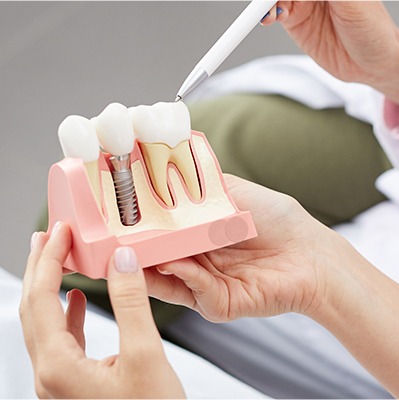 It's important to note that dental implants tend to cost more than dentures and bridges. Because of their longevity, though, they can actually pay for themselves in the long run. While bridges and dentures only last for about 10 years on average, dental implants can last three or four times that long. You won't have to spend money on replacing your prosthetic – not to mention maintenance products like adhesives. In the end, dental implants are easily worth their weight in gold!
Dental Implant FAQs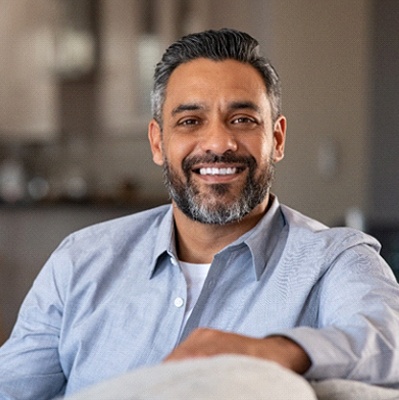 Whether you just started researching dental implants in Worcester or you've been considering this tooth-replacement solution for several months now, it's natural to have questions. Luckily, our knowledgeable team is here to make finding the answers as simple as possible. Have a specific question on your mind? Then don't hesitate to get in touch with our team to schedule a consultation. Want to learn more about dental implants in general? Then keep reading to learn the answers to some of the most frequently asked questions we hear from patients.
How Long Do Dental Implants Last?
Dental implants come with numerous benefits, including their lifelike look and their ability to replace both the root and crown of the missing tooth. Of course, one of the biggest draws is that they can last for several decades. Some even last more than 30 years! The best way to prolong the lifespan of yours is by following a solid oral hygiene regimen, getting dental checkups and cleanings every six months, eating mostly well-balanced, nutrient-dense meals, and steering clear of unhealthy habits, like smoking.
What Can Cause Dental Implants to Fail?
Although dental implants have an impressive 95% success rate, it is possible for them to "fail" in the short and long term. Most often, it's the result of peri-implantitis (a form of gum disease) or failed osseointegration (when the implant doesn't integrate with the jawbone). However, chronic teeth grinding, tobacco use, and poor oral hygiene are other factors that can play a role. Don't worry – our implant dentist in Worcester will review all of these and more during your consultation to ensure you know what to do and what not to do when it comes to keeping your dental implant in pristine condition.
How Can I Tell If My Dental Implant Is Failing?
Dental implant failure is usually accompanied by severe pain, inflammation, and swelling. It may also feel loose or like it's going to fall out. Since it's better to err on the side of caution, reach out to your dentist if any unusual symptoms arise.
Can I Get Dental Implants If I Smoke?
Smoking won't automatically disqualify you. However, since smokers have a higher rate of dental implant failure, it's something your implant dentist will take into serious consideration. If you are a candidate, then you will need to refrain from tobacco use for at least two weeks before the procedure and at least two to three months afterward.
Will People Be Able to Tell That I Have Dental Implants?
Dental implants are incredibly realistic, so there is a good chance that even your closest friends and family won't be able to tell a difference! There are a few reasons for this. To begin, dental implants replace the root and crown of the tooth, ensuring there isn't any unnatural movement when you chew, smile, speak, or laugh. Secondly, dental implants are custom-made for each patient, which means they won't look obtrusive or bulky in any way. Lastly, they are available in a wide range of lifelike shades, so they will blend in with your existing smile flawlessly.